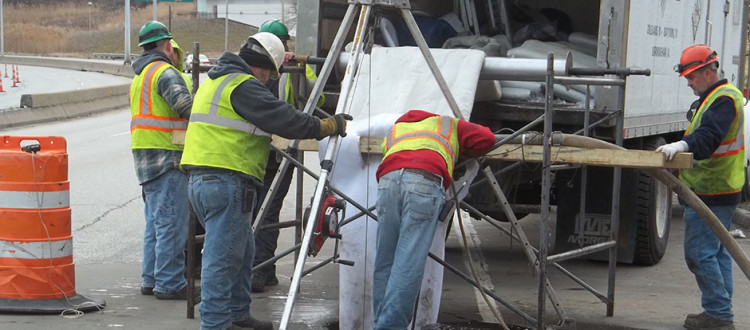 Nerone & Sons utilizes specialized solutions to renew Cleveland's aging sewer systems.
The Northeast Ohio Regional Sewer District (NEORSD) has awarded Nerone and Sons the Collection System Asset Renewal (CSAR) project.  Nerone will employ a variety of specialized methodologies to refurbish sewers throughout the Greater Cleveland area.
The Sewer District has specified Cured in Place Pipe (CIPP), Segmental Glass Reinforced Plastic (GRP), and Polymeric Pipe Lining to repair several reaches of aging sewers. Project Manager Garth Stevens of Nerone and Sons indicates that these methodologies are cost effective solutions to achieving difficult repairs. These upgrades will be performed through access manholes and shafts which eliminates the costly alternative of deep excavations to replace the sewers.